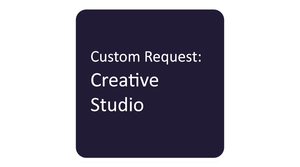 2668534585 - William Grant & Sons Singapore Pte Ltd - Custom preference centre + 4 custom unsubscribe pages
Regular price

Price on Application

Sale price

23 Service Credits

Sale
To create a custom preference centre and 4 custom unsubscribe pages in account albert.wee@wgrant.com.

The custom unsubscribe pages will opt the contact out of just that brand's address book

The custom preference centre will allow contacts to opt in or out of any of the 4 brand address books.

The custom preference centre and custom unsubscribe pages must be linked to via the 'Link to a page' option in email campaigns sent from the same account. Do not link directly to the published URL.
Please see additional custom unsubscribe caveats below.
Client to provide brand guidelines, address book names and hi res logos to creative.services@dotdigital.com

Please allow up to 10 working days to receive the first design draft following our receipt of the processed order and above assets.

Please allow 5+ weeks for the project to be completed, dependent upon timely provision of feedback.
Cost and additional information

Quote ref: #2668534585

Number of credits = 23
Custom Unsubscribe Caveats:
Whenever a contact unsubscribes or updates preferences, they will be removed/added from the relevant brand address book.
Contact will not be suppressed and will not be added into an account suppression list. Therefore, a legal waiver will have to be signed as William Grant & Sons Singapore Pte Ltd will have to be responsible for managing subscriptions of contacts.
It will not be possible to link the account default unsubscribe link to the custom unsubscribe pages as the link cannot be made dynamic, it can only link to a single page. Therefore the pages will need to be linked to manually in email campaigns, via the "Link to a page" option (not linked to the published URL). 
The unsubscribe process will need to be checked and approved by the deliverability team.
Professional Services Terms
The work described hereunder must be redeemed within 12 months from purchase, on a date and time to be agreed with Dotdigital. Unless due to the availability of Dotdigital, any failure to instruct Dotdigital to commence or agree the work described (in whole or in part) will result in forfeiture of the entirety of the fee and no credits or refunds, pro rata or otherwise, will be provided. In addition to the Dotdigital Terms, this product is also subject to the terms found at:
https://dotdigital.com/terms/ps-terms/