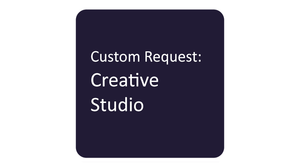 4407275652 - William Grant & Sons Distillers Ltd - Custom Preference Centre x 12
Regular price

Regular price

86 Service Credits

Sale price

86 Service Credits

Sale
62 credits for building 4 x custom preference centres (one per brand) in Global account (Corrinne.koh@wgrant.com)

24 credits for replicating these preference centres in 2 further accounts (UK and US) once the Global account preference centres have been tested and signed off
Preference centres will contain the fields shown in this wireframe: https://r1.dotdigital-pages.com/p/2ES7-6RV
Please set up all data fields and marketing preferences in all three accounts and provide lists to Dotdigital. The builds cannot commence prior to these lists being received.
Any additional fields or requirements will need scoping and may require further credits
Please provide lists of relevant data fields and marketing preferences to creative.services@dotdigital.com. We will need the list for the Global account first in order for the builds to commence, and lists for the UK and US accounts before we start work on those.

Please send hi-res logos, icons, brand guidelines, and any other relevant assets to creative.services@dotdigital.com

Cost and additional information

Expected turnaround of the four preference centres for the Global account within 2-3+ weeks following receipt of processed order form, assets, brand guidelines, datafields and marketing preferences. We will do our best to expedite the project however we will require prompt feedback at each stage.


Quote ref: #4407275652

Number of credits = 86
Professional Services Terms
The work described hereunder must be redeemed within 12 months from purchase, on a date and time to be agreed with Dotdigital. Unless due to the availability of Dotdigital, any failure to instruct Dotdigital to commence or agree the work described (in whole or in part) will result in forfeiture of the entirety of the fee and no credits or refunds, pro rata or otherwise, will be provided. In addition to the Dotdigital Terms, this product is also subject to the terms found at:
https://dotdigital.com/terms/ps-terms/
Standard Custom Preference Centre Notes & Caveats:
All marketing preferences/address books/data fields will need to be set up prior to the preference centre being built, and a list provided to Dotdigital.

Each preference centre will consist of one page containing the preferences form, and one confirmation page.

The custom preference centre can only update contact records in the account it is hosted in.

In order to work correctly, the custom preference centre must be linked to using the 'Link to a page' option in email campaigns sent from this account.

The preference centre cannot be linked to from your website or any other external source.

Contacts cannot update their email address via the preference centre.

The preference centre cannot be hosted on your website - it only works when hosted in your Dotdigital account.

The custom preference centre is not editable. Any future changes would need to be scoped and quoted for.

Each field is mapped to a datafield or marketing preference only in your Dotdigital account. Any further processing or integrating of that data will need to be scoped separately via your Dotdigital Custom Success Manager.

Should the scope differ from what has been quoted, additional charges and delays will apply.