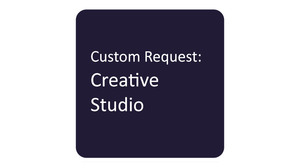 4650068395 - Artfund - Email toolkit blocks
Regular price

Price on Application

Sale price

8 Service Credits

Sale
To design and code the following blocks from the Word doc "Automated wishlisting Dot Digital brief"

Also includes saving them as Custom Building Blocks in one account.

Art Profile hero block
Wishlist recommendations hero block too
See how you've helped block
Last chance hero (option 2)
Your top picks banner
H2 title blocks
Buttons

We can't set a minimum height for the buttons as this is determined by font size and padding. We can design and code the button at least 44px height though, and then you'll just need to make sure not to reduce the padding or font size.
Button padding, font size etc will need to be consistent across desktop and mobile so we'll design so that it is readable and accessible on all devices.
Please provide layered design files for the blocks, if this is not possible the graphics will be fine instead (for example the rolodex image and any other imagery) 

Please also send brand guidelines for font and brand colour reference.

Please send the above to creative.services@dotdigital.com.
Cost and additional information

First design will be provided within 7-10 working days following receipt of assets and processed order. Two rounds of design amendments are included, and once the design is signed off, the build will take 7-10 working days. 


Quote ref: #4650068395

Number of credits = 8
Professional Services Terms
The work described hereunder must be redeemed within 12 months from purchase, on a date and time to be agreed with Dotdigital. Unless due to the availability of Dotdigital, any failure to instruct Dotdigital to commence or agree the work described (in whole or in part) will result in forfeiture of the entirety of the fee and no credits or refunds, pro rata or otherwise, will be provided. In addition to the Dotdigital Terms, this product is also subject to the terms found at:
https://dotdigital.com/terms/ps-terms/