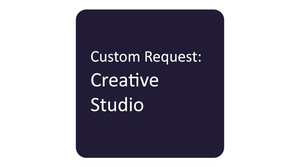 5238618657 - Krispy Kreme - Custom Preference Centre
Regular price

Regular price

17 Service Credits

Sale price

17 Service Credits

Sale
To design and build a single-page custom preference centre with a static form (no dynamic adding/removing of fields according to user input).
Includes a maximum of 25 fields (includes checkboxes, text inputs, etc)
Form design will include standard branded form elements, such as checkboxes, radio buttons, text fields, and select dropdowns. Any additional custom form functionality or options must be scoped separately.
The preference centre will work when linked using the "Link to a page" option in email campaigns. It will not prepopulate if linked to from elsewhere. It cannot be embedded into a website.
The preference centre can include an anchor link in the Key Dates section so it will be possible to link directly to it by appending the anchor link name to the page link in an email campaign. Please note, we will try to keep the design succinct so scrolling/anchor links may not be necessary. If opting to include the anchor, all fields above it should be optional, not required. 
We're not able to include an address finder, so users will need to input any address details manually
The preference centre won't include an unsubscribe link, the unsubscribe link in campaigns will need to point to the account default unsubscribe page. 
Does not include additional website-style nav or other links - the only link will be the Submit button. 
Data fields, marketing preferences and lists will need to be set up in advance and a list provided to the creative team either in the brief or by email prior to the build commencing.
The project will commence once the processed order, completed brief and assets have been returned

Overall timelines are 6-7+ weeks to complete the design and build phases.
Cost and additional information

Quote ref: #5238618657

Number of credits = 17
Professional Services Terms
The work described hereunder must be redeemed within 12 months from purchase, on a date and time to be agreed with Dotdigital. Unless due to the availability of Dotdigital, any failure to instruct Dotdigital to commence or agree the work described (in whole or in part) will result in forfeiture of the entirety of the fee and no credits or refunds, pro rata or otherwise, will be provided. In addition to the Dotdigital Terms, this product is also subject to the terms found at:
https://dotdigital.com/terms/ps-terms/