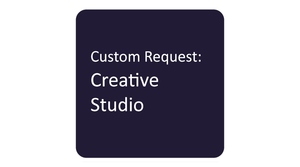 609883827 - Beko - Custom Preference Centre
Regular price

Price on Application

Sale price

10 Service Credits

Sale
Deliverables:
1 Preference Centre with accordion sections
When a category is clicked, the preferences for this section will be revealed/expanded.
If at least one option of a category is 'ticked' the accordion section for this category will remain open/expanded.
All checkboxes will map to YES/NO datafields. We have checked your account and it allows for all the datafields to be created as YES/NO.
Important: The categories will not map to any datafields. This would not be feasible due to the tab/accordion design, having them as CTAs that hide/reveal the relevant options of the category. Only checkboxes can map to YES/NO datafields.
2 rounds of design amendments and 1 round of technical amendments (if required once the design is built) are included as part of this project. Please note: Once the design is signed off, additions or alterations to the layout and/or number of preferences that display on the preference centre page may incur additional costs.
General Notes and Caveats
Unless otherwise stated, all marketing preferences/address books/datafields will need to be set up prior to the preference centre being built, and a list provided to dotdigital.
The preference centre will consist of one page containing the preferences form, and one confirmation page. If an unsubscribe link is included, an additional confirmation page will be supplied.
The custom preference centre will be built in one account only.
The custom preference centre can only be linked to from email campaigns sent from this account; it won't load contact's data if linked to from elsewhere.
Contacts cannot update their email address via the preference centre.
The preference centre cannot be hosted on your website - it only works when hosted in your Engagement Cloud account.
The custom preference centre is not editable. Any future changes would need to be scoped and quoted for.
Each field is mapped to a datafield or marketing preference only in your dotdigital Engagement Cloud account. Any further processing or integrating of that data will need to be scoped separately via your dotdigital AM / CSM / CSC.
The Creative team will not create any segments or automation, this would need to be quoted for separately if required.
Should the scope differ from what has been quoted, additional charges and delays will apply.
Cost and additional information

Expected turnaround: Following receipt of assets etc, 10 working days for first design visual. 2 rounds of amendments. Following design sign-off, the build will take 10 working days. There is a 10 working day testing window during which time 1 round of technical amends can be applied.

Quote ref: #609883827

Number of credits = 10 (plus additional order of 25 custom design & build hours which will be processed separately)
Professional Services Terms
The work described hereunder must be redeemed within 6 months from purchase, on a date and time to be agreed with dotdigital. Unless due to the availability of Engagement Cloud, any failure to instruct dotdigital to commence or agree the work described (in whole or in part) will result in forfeiture of the entirety of the fee and no credits or refunds, pro rata or otherwise, will be provided. In addition to the dotdigital Terms, this product is also subject to the terms found at:
https://dotdigital.com/terms/ps-terms/