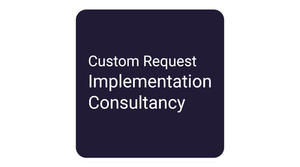 Acacium Group - CYP Notifications - AP Campaigns - SMS - Automations
Regular price

Price on Application

Sale price

65 Service Credits

Sale
Implementation of 'Appointment Reminder' service emails
Solution Overview
Dotdigital's solution will involve insight data, automated programs, triggered campaigns and the SMS node for automated programs.

For scheduled sends, Acacium Group will regularly import new contacts and appointment data (as insight data) into their Dotdigital account. The Dotdigital team will build segments looking for contacts with specific appointment types, specific appointment statuses or appointments in X days' time. The contacts that meet the segment rule(s) will be enrolled into automated journeys that send the notification emails out. Acacium Group will provide contact communication preferences which will enable Dotdigital to send either an email or SMS to the contact based on their preferred type of communication.

For event/trigger-based comms, Acacium Group will use Dotdigital's transactional API endpoint to launch out the notifications in real time. Dotdigital will build the triggered email campaigns and Acacium Group will setup the API to launch the email based on campaign ID – any personalisation in transactional campaigns will need to be provided in the request from Acacium. For triggered SMS, Acacium Group will send the full SMS content alongside the request.

Dotdigital will build
34-37 triggered (scheduled) email campaigns

11-14 triggered (scheduled) SMS campaigns
11-14 automated (scheduled) journeys
Summary of emails and SMS

Scheduled:
Registration reminder
Book an assessment:

72 hours reminder*
120 hours reminder*

Book care planning appointment:

72 hours reminder*
120 hours reminder*

Book appointment (treatment only):

72 hours reminder*
120 hours reminder*

Initial assessment reminder**
Care planning reminder**
Appointment reminder**
Missed appointment (no future appointment booked)
Missed appointment (future appointment booked)
 Event/trigger based:
Welcome to Service
Registration confirmation
Assessment booking confirmed
Care planning booking confirmed
Appointment confirmed
Cancelled appointment
Get Help Now comms
Referral requires additional information
Referral rejected
Not accepted for treatment
Further treatment required
1 hour before assessment/care planning/appointment reminder
15 minutes before assessment/care planning/appointment reminder
 The schedule sends will use insight data (appointment data) to enrol contacts into the programs for specific notifications. The Event/Trigger based comms will use Dotdigital's Transactional Email API to launch the notifications out to contacts.
Estimated delivery schedule
Item

Week

Ownership

Note

Set up of Service Child Account + From address
Removal of unsubscribe - with Deliverability team

1

Dotdigital

Acacium to confirm from address

Collate & share email creative and image assets (logo's)

1

Acacium

Dotdigital will provide a portal to load assets to

Create API username and password

1

Acacium

 

Set up SMS profile

1

Acacium / Dotdigital

From name = XylaDigital (Acacium confirm upper/lower case)

Pass sample data in to account

1

Acacium

Dotdigital will review and make sure all is correctly formatted

Start loading 'live' appointment data

1-2

Acacium

 

Create 'event' email campaigns and provide campaign IDs

2-3

Dotdigital

 

Test campaign triggers via API

3-4

Acacium

 

Test SMS via API

3-4

Acacium

 

Collate and feedback any amends for 'event' campaigns

4-5

Acacium

 

Create 'scheduled' campaigns and circulate for amends

4-5

Dotdigital

 

Map out automated journeys and SMS messaging

5

Dotdigital

 

Collate and feedback any amends for 'scheduled' campaigns

5-6

Acacium

 

Work through all amends

6

Dotdigital

 

Provide dates / status for test data

6

Dotdigital

Dotdigital will supply several use-cases to complete all journey testing - Acacium to confirm a list of test contacts to use also

Send test data to account

6

Acacium

 

Complete automated journey tests

6-7

Acacium / Dotdigital

 

Review journeys and make any final tweaks

7

Acacium / Dotdigital

 

Sign-off and launch

7-8

Acacium / Dotdigital

Dotdigital to activate

Approval period

8-10

Acacium / Dotdigital

Two week period post go-live to make any last min amends. Dotdigital to monitor during this period also
Cost and additional information

Professional Services Terms
The work described hereunder must be redeemed within 12 months from purchase, on a date and time to be agreed with dotdigital. Unless due to the availability of Engagement Cloud, any failure to instruct dotdigital to commence or agree the work described (in whole or in part) will result in forfeiture of the entirety of the fee and no credits or refunds, pro rata or otherwise, will be provided. In addition to the dotdigital Terms, this product is also subject to the terms found at:
https://dotdigital.com/terms/ps-terms/