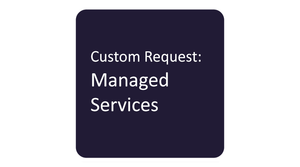 Beko PLC - Collaborative implementation - 5272762600
Regular price

Regular price

7 Service Credits

Sale price

7 Service Credits

Sale
A collaborative implementation session to build out a recent purchase journey.
What you get

An initial call with Managed Services to agree on timings for the session and confirm what has been scoped

1 x 2 hour interactive session, including

Overview of program builder and terminology
Program build
Program best practice
Testing best practice

The program will be created and ready for you to set live at the end of the session; alternatively, Managed Services may set a task(s) at the end of the session for you to carry out

 

What we'll need from you

Confirmation on how data is passing into the program, as well as confirmation on the below:
How can we tell a user is newly registered?

Are new users added to a list on the account?
Is there a "last_registered_date" data field in

Beko have expressed an interest in enrolling users historically

For example when the programme activates, if some has a RecentPurchaseDate of 6 months ago they can receive 'Email 4
This adds an extra complication to the program – we would need to have a multi-decision node to put users down the correct journey

 

Things to note

Managed Services will not support on implementation will be given after the session has finished
Anything in addition to or outside of the above will require a rescope and may incur additional costs
This assumes the order has been received by Friday 27 October.
Task
Week

Call to confirm deliverables

w/c 30 October 2023
Managed Services to prepare for the session

w/c 6 November October

w/c 13 November


The session is delivered

Project closes

w/c 20 November
Cost and additional information

Professional Services Terms
The work described hereunder must be redeemed within 12 months from purchase, on a date and time to be agreed with dotdigital. Unless due to the availability of Engagement Cloud, any failure to instruct dotdigital to commence or agree the work described (in whole or in part) will result in forfeiture of the entirety of the fee and no credits or refunds, pro rata or otherwise, will be provided. In addition to the dotdigital Terms, this product is also subject to the terms found at:
https://dotdigital.com/terms/ps-terms/