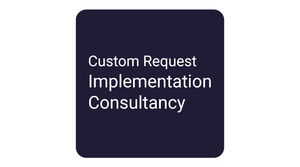 Christian Aid - Transactional Email Templates
Regular price

Regular price

36 Service Credits

Sale price

36 Service Credits

Sale
Overview: 
Dotdigital Implementation Consultancy team to build 28 triggered email campaigns in account adanks@christian-aid.org for use with Microsoft Dynamics transactional send. 
There is a Creative Express Toolkit available in the account for Dotdigital to use for this project. A number of campaigns provided by Christian Aid have a black header, rather than the red available - we will adjust the background colour for these builds.
Christian Aid have provided 28 HTML files for the builds which we will use as a reference for layout, content, images and links. 
As these are triggered from Dynamics, Christian Aid would need to manage the configuration of this

Please see this article for using Dynamics Transactional Workflows
Tom has provided a file that outlines the personalisation in each campaign
The 'default' value if no data exists can be set in Dynamics e.g., if there's no firstname, some campaigns are using "friend"


Christian Aid would need to supply us with each Data Label (the all caps name, not the 'value' in brackets)

Delivery: 
For Christian Aid to complete / start the Dynamics Workflow set up we can

Create placeholder campaigns in the Dotdigital account to generate campaign IDs, we'll then provide the campaign IDs so these can be added in to the workflows

Christian Aid should supply us ASAP with the data label names – these can be added in to the spreadsheet Tom has circulated
The HTML files did not contain a subject line – please also make sure this is added to the spreadsheet circulated
We can save content images from the HTML files, but if any need to change, these should be supplied separately
The Dynamics work needs to be completed by Christian Aid – Dotdigital cannot support with troubleshooting workflows 
If there is priority of campaigns that need to be created first, please group these in the spreadsheet or add an additional column for P1, P2 etc.
Estimated Timeline

*note that we will assign two Implementation Consultants to work on this project.
The timeline provided is an estimate based on the information we have to-date. Delays in providing any required assets will result in the project being extended. 
Where possible, Dotdigital will aim to deliver the work sooner.
Task

Notes

Who

Week

Campaign assets provided

Already complete – pending

Subject lines
Personalisation

Client

1

Placeholder campaigns generated

Empty triggered emails created in Dotdigital, campaign IDs generated and shared with client

Dotdigital

1

Dynamics Workflows work begins

 

Client

1-2


Campaign builds

Using the express toolkit and HTML files provided – build the campaigns using the content

Images to be downloaded from each file and saved in Dotdigital
Existing social icons blocks to be replaced with custom container

Dotdigital

1-2


Campaigns review

Dotdigital will supply test sends to an/set of agreed contacts

Dotdigital

2-3


Provide amends

Client to collate all campaign amends

Client

3


Apply amends and re-send tests

 

Dotdigital

3-4


Testing

Each transactional action to begin testing in Dynamics – Dotdigital can supply additional email addresses for testing if required

Client + Dotdigital

4


Go-live

Client approves project and sets workflows live

Client

4-5


 

Review period

Once the project is live this is courtesy period in which the client can reach out with questions

Client + Dotdigital

6-7


Handover

Project complete – handover to Tom

Client + Dotdigital

7
Cost and additional information

Any delays in providing requested assets will push out the estimated timeline

Any additional work requested will require a re-scope and is likely to incur extra costs
Quote ref: #4957966100

Total before discount = 40
 
A discount has been agreed with your Customer Success Director. The initial project was estimated at 40 credits, and we have agreed to deliver this at 36 credits instead.
Professional Services Terms
The work described hereunder must be redeemed within 12 months from purchase, on a date and time to be agreed with dotdigital. Unless due to the availability of Engagement Cloud, any failure to instruct dotdigital to commence or agree the work described (in whole or in part) will result in forfeiture of the entirety of the fee and no credits or refunds, pro rata or otherwise, will be provided. In addition to the dotdigital Terms, this product is also subject to the terms found at:
https://dotdigital.com/terms/ps-terms/