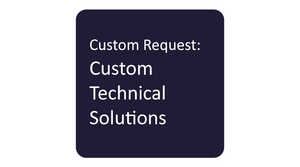 City & Guilds Custom Preference Centre Updates (2021)
Regular price

Price on Application

Sale price

12 Service Credits

Sale
The dotdigital Custom Technical Solutions (CTS) team will apply the updates listed below to the existing City & Guilds (C&G) Custom Preference Centre (https://cityandguilds.email-preferences.com/sign-up).

Spelling change – Change Saloon to Salon on sign ups and preference centre
Change the ILM logo to correct one on all appropriate Ilm forms – Sign up, Request a sign up and ILM (Ben to provide)
Add the following "Please change your details and update your preferences below by clicking 'Update your preferences' at bottom of page." to the preference centre page, under the text "You are about to update the details for @email@" on the Preference centre page
Update the Department with additional options (See next slide)
Add/ Surface First name and Last name to the preference centre in the section under the text "You are about to update the details for @email@" on the Preference centre page
Add the following preferences to Area's of Interest on both C&G sign up and the preference centre (Not the ILM sign up)
Assured/accreditation (ACCREDITATION_UPDATE)
Professional Development (PROFESSIONAL_DEV_CPD)
Remove Learner from organisation type

Hide 'Organisation name', 'Organisation number' and 'Organisation Type' fields, if they select 'Learner' as Job Role

It appears that non-compulsory fields, if left blank, overwrite data in dotdigital with blank – we need a rule to 'Don't update with data fields with blanks' if possible

Update the preference documentation once complete with changes and send over update
These updates will be added to the existing scope of work - 'dotdigital Project Scope - City & Guilds - Custom Preference Centre (2019) v1.6'.
Any new requirements that fall outside the remit of the updates listed above may require addition hours and costs.
CTS team to update scope of work with required updates

C&G to approve updated scope of work

CTS team to schedule development work
Cost and additional information

Additional credits may be required if new requirements are discovered during the completion of the scope updates.

Professional Services Terms
The work described hereunder must be redeemed within 12 months from purchase, on a date and time to be agreed with dotdigital. Unless due to the availability of Engagement Cloud, any failure to instruct dotdigital to commence or agree the work described (in whole or in part) will result in forfeiture of the entirety of the fee and no credits or refunds, pro rata or otherwise, will be provided. In addition to the dotdigital Terms, this product is also subject to the terms found at:
https://dotdigital.com/terms/ps-terms/