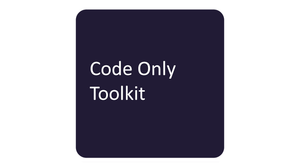 Code Only Toolkit
Regular price

Regular price

From 6 Service Credits

Sale price

6 Service Credits

Sale
If you have a design you'd like us to build out into a template, or an existing template that you would like to use with drag and drop functionality, we can code your template using the latest self-updating code base and mobile-first methodology. The size of the template (from Bronze to Gold) will depend on the size of your design and the number of content layout types it contains.



Custom branded header and footer derived from your design
Drag and drop editability
Fully self-updating code base to keep your campaigns rendering beautifully, even if Outlook, Gmail and other email clients are updated.
Fully mobile-first content layout blocks - Options below:
• Header and footer block, plus
• 3 blocks
• Header and footer block, plus
• 5 blocks
• Header and footer block, plus
• 9 blocks
Your hi-res logo, icons and other assets.
Your final design, as a layered Photoshop file or as plain HTML.
Your feedback and approval once your template has been built and is ready for review.
Things to know and caveats
The process includes one round of build amends
When your order is processed, it will join a task queue and we will inform you of when you can expect to see the final build – but be aware it can be a lengthy process.
There may be some design elements that we will propose to rationalise to make the best of the EasyEditor's functionality, but we will consult you on this before starting on the build.
The work described hereunder must be redeemed within 12 months from purchase, on a date and time to be agreed with Dotdigital. Unless due to the availability of Dotdigital, any failure to instruct Dotdigital to commence or agree the work described (in whole or in part) will result in forfeiture of the entirety of the fee and no credits or refunds, pro rata or otherwise, will be provided. In addition to the Dotdigital Terms, this product is also subject to the terms found at: https://dotdigital.com/terms/ps-terms/