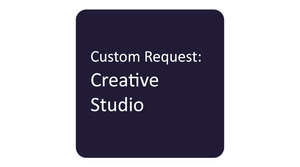 Creative Toolkits (Gold and Bronze) for Alzheimer's Research UK
Regular price

Price on Application

Sale price

30 Service Credits

Sale
Custom branded header and footer
Drag and drop editability
Fully self-updating code base to keep your campaigns rendering beautifully, even if Outlook, Gmail and other email clients are updated.
Designed and branded content layout blocks - 

 


1 x Bronze

• Header and footer block, plus
• 3 blocks




1 x Gold

• Header and footer block, plus
• 9 blocks

What we'll need from you

Your brand guidelines, website and other examples of your brand style.
A completed creative brief
Guidance on what kind of campaigns you will be building from your kit
Your feedback and approval once your design is ready for review
Cost and additional information

Things to know and caveats
The process includes up to two rounds of design amends, and one round of build amends
Once design approval has been received, any further design changes will incur additional charges.
Review and feedback will require you to log into our online proofing and project management platform.
When your order is processed, it will join a task queue and we will inform you of when you can expect to see the first draft design – but be aware it can be a lengthy process.
Unless you tell us otherwise, we'll assume you're happy for us to use your final design in training and promotional material.
The work described hereunder must be redeemed within 12 months from purchase, on a date and time to be agreed with Dotdigital. Unless due to the availability of Dotdigital, any failure to instruct Dotdigital to commence or agree the work described (in whole or in part) will result in forfeiture of the entirety of the fee and no credits or refunds, pro rata or otherwise, will be provided. In addition to the Dotdigital Terms, this product is also subject to the terms found at: https://dotdigital.com/terms/ps-terms/