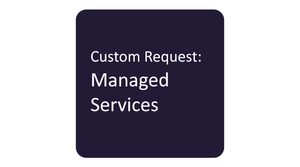 Dotdigital Managed Service | Azura Consulting Pty Ltd Campaign Management
Regular price

Regular price

3 Service Credits

Sale price

3 Service Credits

Sale
Ongoing Professional Services Work for 

Azura Consulting Pty Ltd - Azura Reborn.



This product item is for one campaign build and test, working within the parameters of the silver toolkit template in Azura account. 
Includes the scheduling/sending to relevant segment/address book on date and time specified by Azura.
Current project understanding is the creation of 4 email campaigns per month (1 per week) for 12 months. 
Azura Consulting to

supply copy, images, subject lines & CTAs for the Campaign build.

Campaign information must be supplied 10 working days in advance of the required send date.
Azura Consulting must also outline what segment/address book the campaign will be sent to 5 working days in advance so they can be prepared.

Azura Consulting must also specify the exact day and time the campaign is to be sent.

Campaign includes one amendment phase, Dotdigital will construct and send a preview. Azura to collate all feedback and send together for review.

We've included a 2 day review window; if you require longer please let us know.

Campaign must be approved and signed off at least 2 working days prior to send.

Any additional rounds of amends/ hours may be chargeable.

Any product changes required please liaise with Project Manager, Danielle Douglass prior to redeeming.

Agreed start date for first send is 5th May 2023
Cost and additional information

This product is

 at the cost of 3 professional service credits/ approx 3 hours. If project requires more hours this will be discussed with project manager prior to redeeming. 

Current project understanding is the creation of 4 email campaigns per month (1 per week) for 12 months.
This product assumes the required data is available in the clients account e.g. contacts, data fields.
This does not include the setup or testing of any other account functionality. e.g. Product recommendations.
Does not include the setup of any new or custom template blocks.
This does not include the planning of a Dedicated Migration Plan and this may need to be purchased separately.
All work to be completed within the Dotdigital account: 

bonnie@azurafashiongroup.com - Azura Consulting Pty Ltd for Azura Reborn
Quote ref: #QUO-17550-N9Q1Y3 /1

Number of credits per product = 3
Number of credits purchased = 144
Professional Services Terms
The work described hereunder must be redeemed within 12 months from purchase, on a date and time to be agreed with dotdigital. Unless due to the availability of Dotdigital, any failure to instruct dotdigital to commence or agree the work described (in whole or in part) will result in forfeiture of the entirety of the fee and no credits or refunds, pro rata or otherwise, will be provided. In addition to the dotdigital Terms, this product is also subject to the terms found at:
https://dotdigital.com/terms/ps-terms/