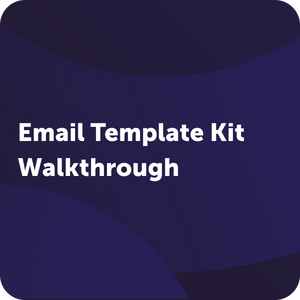 Email Template Kit Walkthrough
Regular price

Regular price

5 Service Credits

Sale price

5 Service Credits

Sale
A screenshare session of up to 2 hours with a member of the Creative Studio team, where we show you how to use your template blocks in the EasyEditor to create professional-looking campaigns. It's particularly useful if you have custom coded or complex blocks within your email template, but can benefit any users of the platform wanting to gain confidence and familiarity with the EasyEditor tools. Platform training which covers wider campaign creation is also available via the Training team.
A screenshare session of up to 2 hours

An optional recording of the session (you'll need to let us know in advance if you'd like it to be recorded)
You'll need to fully test and sign off your email template before we can book the walkthrough. 

We'll need at least two week's notice to book the session.
Things to know and caveats
Any build amends or design changes that are requested during or after the session will require a separate quote. 

Doesn't cover topics such as personalisation, adding dynamic content, general account settings, subject lines or any other topics that aren't directly related to using the EasyEditor to work with the template blocks.
The work described hereunder must be redeemed within 12 months from purchase, on a date and time to be agreed with Dotdigital. Unless due to the availability of Dotdigital, any failure to instruct Dotdigital to commence or agree the work described (in whole or in part) will result in forfeiture of the entirety of the fee and no credits or refunds, pro rata or otherwise, will be provided. In addition to the Dotdigital Terms, this product is also subject to the terms found at: https://dotdigital.com/terms/ps-terms/