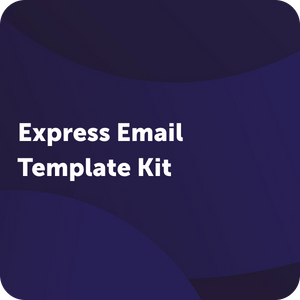 Express Email Template Kit
Regular price

Regular price

6 Service Credits

Sale price

6 Service Credits

Sale
If you don't feel the need for a fully custom designed email template kit, or you want to get up and running sending email campaigns quickly, the Express Email Template Kit may suit your needs. Choose from a selection of pre-designed headers, footers and content blocks, and we will build these into an editable email template with your brand colours, logo and buttons styles applied, ready for you to start building campaigns. Benefits from the mobile-first and self-updating code base of our other templates.


An editable email template kit, with your branding, logo, placeholder imagery and button styles applied.
Includes a header, a footer and up to three content blocks.
Blocks can be moved, duplicated, deleted and edited. Default building blocks can be dragged in by you to expand the template further.
Fully self-updating code base to keep your campaigns rendering beautifully, even if Outlook, Gmail and other email clients are updated.
Your brand guidelines.
Your logo in hi res JPG, PNG, AI or PSD format.
Things to know and caveats
There is one round of amends to adjust the branding application only.
Doesn't include custom designed building blocks or social icons, these can be requested separately at an additional cost.
No changes to the header, footer or block layouts are included but they are all fully editable by you.
Project timelines can be found here
The work described hereunder must be redeemed within 12 months from purchase, on a date and time to be agreed with Dotdigital. Unless due to the availability of Dotdigital, any failure to instruct Dotdigital to commence or agree the work described (in whole or in part) will result in forfeiture of the entirety of the fee and no credits or refunds, pro rata or otherwise, will be provided. In addition to the Dotdigital Terms, this product is also subject to the terms found at: https://dotdigital.com/terms/ps-terms/