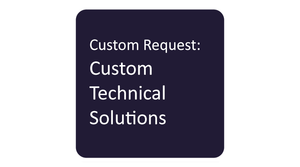 Mamas & Papas - Personalised Header and Footer Menu - Sept 23 Update
Regular price

Price on Application

Sale price

2 Service Credits

Sale
Mamas & Papas require an update to be applied to their existing personalised header and footer solution, as built by the Dotdigital Custom Technical Solutions team.
This update will add an extra recommended category to the menu, removing the 'New in' menu item and shifting all products by one place to the left in the menu.
The priority order of the fall-back menu items (when the recipient doesn't have enough personalised items) will also be updated to 'Furniture | Pushchairs | Car Seats | Clothing | Toys & Gifts'.
Note that this update will not apply to all existing instances of the dynamic header – it will be created as a new custom building block that can be added to email campaigns moving forwards. 
Please see the document 'dotdigital Project Scope - Mamas & Papas - Personalised Header and Footer Menu v1.1.pdf' for full details of the solution.
Web Insight data containing the expected product category values must be present in the account for the solution to work effectively 
Cost and additional information

Professional Services Terms
The work described hereunder must be redeemed within 12 months from purchase, on a date and time to be agreed with dotdigital. Unless due to the availability of Engagement Cloud, any failure to instruct dotdigital to commence or agree the work described (in whole or in part) will result in forfeiture of the entirety of the fee and no credits or refunds, pro rata or otherwise, will be provided. In addition to the dotdigital Terms, this product is also subject to the terms found at:
https://dotdigital.com/terms/ps-terms/