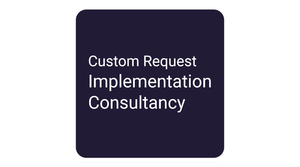 NCP Transactional Email Updates
Regular price

Price on Application

Sale price

15 Service Credits

Sale
Update of 10x campaigns in Sandbox account:development.dotmailer@ncp.co.uk to include

Original price
RRP
Discount %

Logic to be put in place to hide information if it's not appliable to the purchase

Sandbox Campaign list:

2 - NCP App Purchase Receipt - ID: 877227
1 - NCP App Refund Receipt - ID: 877223
4 - NCP App Initial Auto Renew Reminder - ID: 877232
5 - NCP App Final Auto Renew Reminder - ID: 877234
6 - NCP App Auto Renew Payment Receipt - ID: 877236
7 - Confirmation of Auto Renew Disable - ID: 877238
3 - NCP App Confirmation of Account Deletion Request - ID: 877229
8 - NCP App Account Reactivation - ID: 877241
Inactive account – Reminder - ID: 1088868
Inactive Account – Final - ID: 1088873
NCP will be responsible for testing the transactional trigger and passing the relevant data to support the changes being made to the campaigns.
We will allow for up to two rounds of amends per campaign – NCP to collate and supply all feedback.
Once testing is successful on the sandbox account, replicate the updates in to the production account:mario.tilney-bassett@ncp.co.uk
We will duplicate the below campaigns and apply the amends, so existing live campaigns remain unaffected. New campaign IDs will be provided.
Campaign list:

2 - NCP App Purchase Receipt - ID: 3639
1 - NCP App Refund Receipt - ID: 1967
4 - NCP App Initial Auto Renew Reminder - ID: 3645
5 - NCP App Final Auto Renew Reminder - ID: 3647
6 - NCP App Auto Renew Payment Receipt - ID: 3648
7 - Confirmation of Auto Renew Disable - ID: 3650
3 - NCP App Confirmation of Account Deletion Request - ID: 3642
8 - NCP App Account Reactivation - ID: 3655
Inactive account – Reminder - ID: 47387
Inactive Account – Final - ID: 47384
We are relying on NCP to be able to test their payloads for each campaign
NCP will need to provide the updated price including discount in the API JSON to trigger the transactional emails, and the discount percent to be shown.
Cost: 15 Professional Service Credits
Dotdigital is aiming toward the first week of December to have completed testing in the sandbox account before moving the signed-off templates in to the production account - assuming this project is redeemed by 16th November 2022. 
Cost and additional information

Professional Services Terms
The work described hereunder must be redeemed within 12 months from purchase, on a date and time to be agreed with dotdigital. Unless due to the availability of Engagement Cloud, any failure to instruct dotdigital to commence or agree the work described (in whole or in part) will result in forfeiture of the entirety of the fee and no credits or refunds, pro rata or otherwise, will be provided. In addition to the dotdigital Terms, this product is also subject to the terms found at:
https://dotdigital.com/terms/ps-terms/