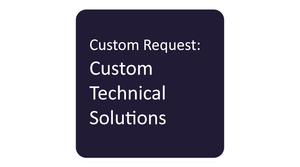 Papa Johns - Advanced Personalisation Set-up and Guide
Regular price

Price on Application

Sale price

10 Service Credits

Sale
Papa John's require an Advanced Personalisation (AP) block to be set-up in their Pakistan dotdigital account, which will allow them to display the 'loyalty_points_order' value for a contact's most recent order Insight record.

They also require an AP block that displays the products purchased by a contact in their most recent order Insight record.

The dotdigital Custom Technical Solutions (CTS) team will create the AP blocks described above ('Loyalty' and 'Products') in the Papa John's Pakistan dotdigital account. The CTS team will also provide documentation on how the blocks work and how to replicate them in other accounts (as well as an optional walkthrough call).

Please note that this project will not include creative/design work on the blocks (they will just be set-up using the existing branding in the Papa John's Pakistan dotdigital account).

If a specific design/layout is needed for the 'Loyalty Points' block or the 'Products' block then this must be built by Papa John's as static content in the dotdigital account before the Advanced Personalisation can be applied by CTS.

All data required for the Advanced Personalisation must be available in the dotdigital account in the expected format before the blocks can be completed and tested by CTS.
Cost and additional information

This project does not include future support or troubleshooting for the Advanced Personalisation blocks. Any future work will need to be reviewed and costed on an individual basis.
Desired completion date for the Advanced Personalisation blocks is 04/02/2022

Professional Services Terms
The work described hereunder must be redeemed within 12 months from purchase, on a date and time to be agreed with dotdigital. Unless due to the availability of Engagement Cloud, any failure to instruct dotdigital to commence or agree the work described (in whole or in part) will result in forfeiture of the entirety of the fee and no credits or refunds, pro rata or otherwise, will be provided. In addition to the dotdigital Terms, this product is also subject to the terms found at:
https://dotdigital.com/terms/ps-terms/