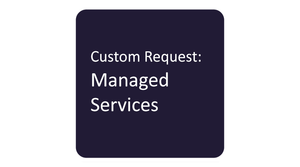 Stonemanor Limited (T/A Apricot) - Transactional email builds - Managed Services
Regular price

Regular price

30 Service Credits

Sale price

30 Service Credits

Sale
The building and testing of the following 6 Salesforce Commerce Cloud emails in the account (to be confirmed by Apricot) - 18 credits

Account creation
Account edited
Password change request
Password changed
Order confirmation
Shipping confirmation

The replication of the campaigns from the sandbox account into production account - 6 credits
Support where needed for amends once the transactional email variables have been tested - 6 credits

Project outline and process
Apricot to confirm which variables should be used for which email
Managed Services to build out the following emails in the sandbox Apricot account

Account creation
Account edited
Password change request
Password changed
Order confirmation
Shipping confirmation

These campaigns are out of the box Salesforce Commerce Cloud cartridge emails and can easily be personalised with the variables outlined in this support document here.

Managed Services to send emails through to Apricot for sign off
Two rounds of amends, including

Copy amends
Layout amends
Does not include variable testing at this stage

Managed Services to provide with Email Campaign IDs to Apricot
Apricot or Salesforce Commerce Cloud agency to input Email Campaign IDs where possible, following this support doc to their sandbox account
Apricot and Salesforce Commerce Cloud agency to test emails to see if variables are pulling through
Apricot, Managed Services and Salesforce Commerce Cloud agency to see if amends are required and who those amends will sit with
If amends are not required, Managed Services will move the campaigns to the production Apricot account and supply the campaign IDs
Apricot or Salesforce Commerce Cloud agency to input Email Campaign IDs where possible, following this support doc to their sandbox account
Apricot and Salesforce Commerce Cloud agency to test emails to see if variables are pulling through
Apricot to sign off project

Timings
An exact delivery date is difficult to guarantee due to the nature of the project. However, Managed Services will keep to the following times:
First drafts will be with Apricot 5 working days from project sign off or submission of assets
Amends will be actioned and updated drafts will be with Apricot 2 working days after they are submitted to Managed Services.
Replication to production account will be completed 3 working days after the completion of amends, or after testing is complete on sandbox.
Cost and additional information

Transactional email templates don't support the following EasyEditor building blocks and link types:

'RSS feed'
'Sharing'
'Social links'
'Dynamic content'
'External dynamic content'
'Advanced personalisation' blocks'
'Forward to a friend' link
'Unsubscribe' link (but one will need to be included in order to save your template in EasyEditor - this will be handled during the build of the campaigns)'
View in browser' link
'Double opt-in' link


Quote ref: #2134667523

Number of credits = 30
Professional Services Terms
The work described hereunder must be redeemed within 12 months from purchase, on a date and time to be agreed with dotdigital. Unless due to the availability of Engagement Cloud, any failure to instruct dotdigital to commence or agree the work described (in whole or in part) will result in forfeiture of the entirety of the fee and no credits or refunds, pro rata or otherwise, will be provided. In addition to the dotdigital Terms, this product is also subject to the terms found at:
https://dotdigital.com/terms/ps-terms/