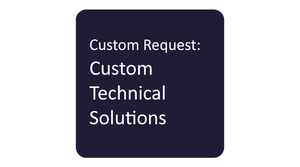 Ted Baker - March 2021 Transactional Email Updates - CTS Hours
Regular price

Price on Application

Sale price

105 Service Credits

Sale
Following completion of dotdigital Creative Studio work.
(10 Hours) CTS Team to create copy of Creative Studio toolkit template in Ted Sandbox account and add/test Advanced Personalisation (AP) placeholders to header and footers (copy should match up with existing copy and placeholders in existing headers and footers)

(78 hours) For each transactional campaign (13 in total), CTS Team to:

Copy new header and footer to existing email campaign in Sandbox account (using custom building blocks)
Remove existing header and footer
Update fonts of existing copy/content to use new styles/fonts
Add in body content using new designs created by Creative Studio where required (only needed for 5 of the campaigns based on initial review). Add in AP placeholders. Remove existing area with old branding. Note that this step is more complicated for the order related emails (see dedicated point regarding this below)
Test new campaign personalisation via API in Sandbox account
Get sign-off on design and personalisation on Sandbox campaign from Ted Baker
Copy new campaign HTML to equivalent campaign in Live Ted Baker account (ensuring back-up of previous HTML is saved for quick roll-back if required)

(5 hours) Update of documentation to include new designs, though most of the AP and placeholders should remain the same
(12 hours) Additionally, the new design HTML for the order confirmation/dispatch/cancellation campaigns (which is passed over in the API request and replaces an AP placeholder) will need to be tested by CTS and Ted Baker in the Sandbox environment. This new HTML will then need to be provided to Ted Baker to replace the HTML currently being provided in the live API requests.
A second phase of the project will involve walkthrough and training on how to update the transactional emails with Ted. This will be provided as a separate Service Station product at a later date.

The times and costs quoted here are based on the requirements provided by Ted Baker as of 11/03/2021. Any additional or new requirements may be subject to additional time and costs.
Total cost and service terms

Professional Services Terms
The work described hereunder must be redeemed within 12 months from purchase, on a date and time to be agreed with dotdigital. Unless due to the availability of Engagement Cloud, any failure to instruct dotdigital to commence or agree the work described (in whole or in part) will result in forfeiture of the entirety of the fee and no credits or refunds, pro rata or otherwise, will be provided. In addition to the dotdigital Terms, this product is also subject to the terms found at:
https://dotdigital.com/terms/ps-terms/