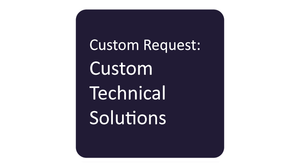 West Midlands Trains - Custom Data Import Updates - 2021/2022
Regular price

Price on Application

Sale price

70 Service Credits

Sale
West Midlands Trains require updates to be applied to their existing custom data import, which is hosted and run by the Dotdigital Custom Technical Solutions (CTS) team.

The main updates being applied are as follows;

A new file source and field mapping for the customer contact data import (CUSTOMER). This will be used instead of the existing Customers file.
New opt-in fields and values (in the new CUSTOMER file) will be used in customer/contact suppression and 3rd party import logic.
The existing Journey Insight data import will be stopped and a new import to an orders Insight collection will be performed instead. This will use two new files - PRODUCT and FARE – which will be joined to create order objects.
A one-off manual bulk import of all existing contact data will also take place to capture 'External_Customer_ID', 'Retailer_Marketing_Opt_In', and 'Third_Party_Marketing_Opt_In'.
The total cost for the project updates is £10,500 (70 Service Credits). There will also be an increase of £50 to the existing project monthly support and maintenance cost.
For full details of the updated integration requirements please see the document dotdigital Project Scope - West Midlands Trains - Flat & Insight Data Import - V9.0.pdf.

The project scope of work (dotdigital Project Scope - West Midlands Trains - Flat & Insight Data Import - V9.0.pdf) must have been reviewed and approved by West Midlands Trains before the project can be scheduled with the CTS development team

The historical bulk import of customer data can be supplied by The Trainline within 1 week of being requested

Cost and additional information

Professional Services Terms
The work described hereunder must be redeemed within 12 months from purchase, on a date and time to be agreed with dotdigital. Unless due to the availability of Engagement Cloud, any failure to instruct dotdigital to commence or agree the work described (in whole or in part) will result in forfeiture of the entirety of the fee and no credits or refunds, pro rata or otherwise, will be provided. In addition to the dotdigital Terms, this product is also subject to the terms found at:
https://dotdigital.com/terms/ps-terms/